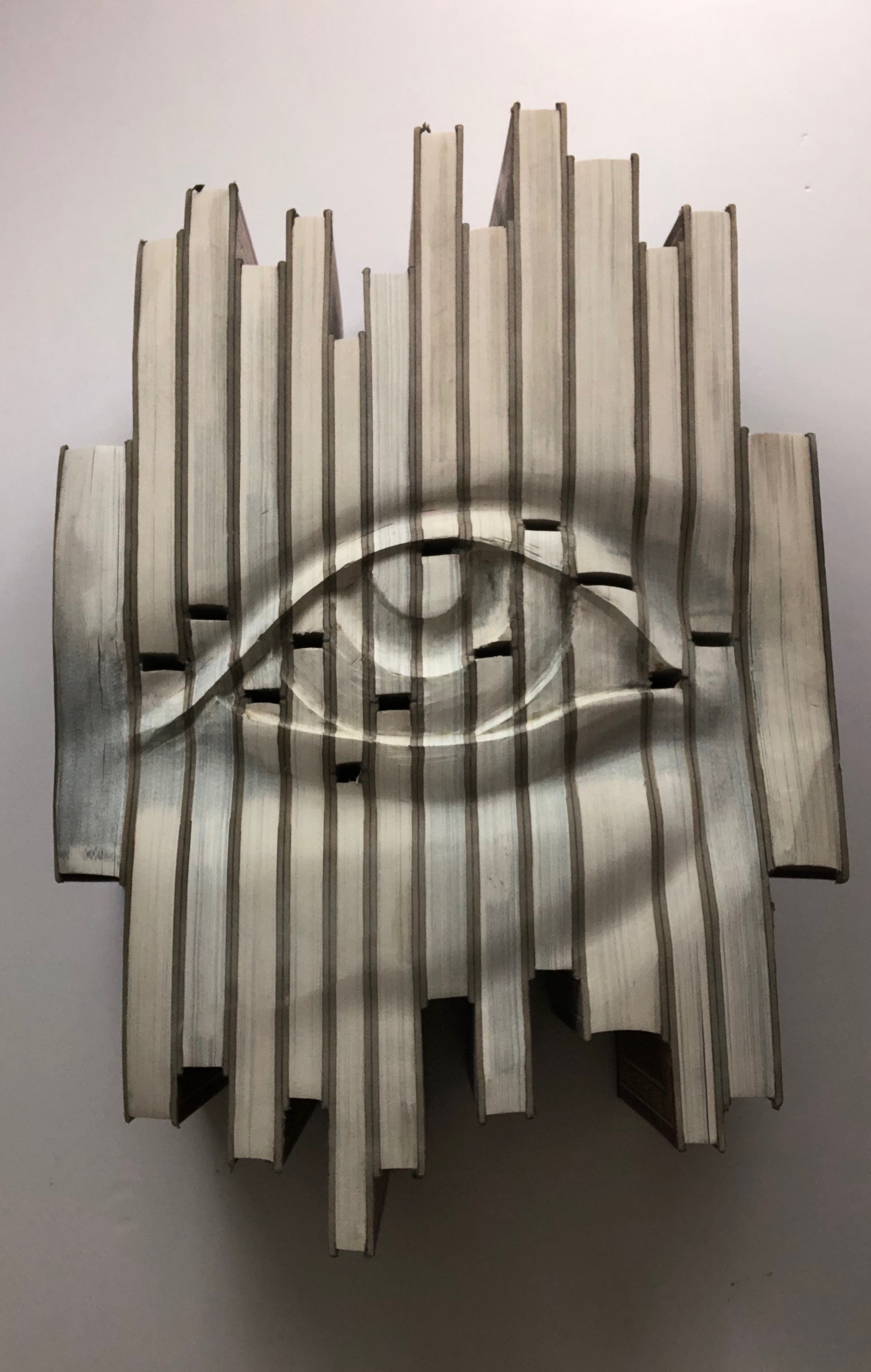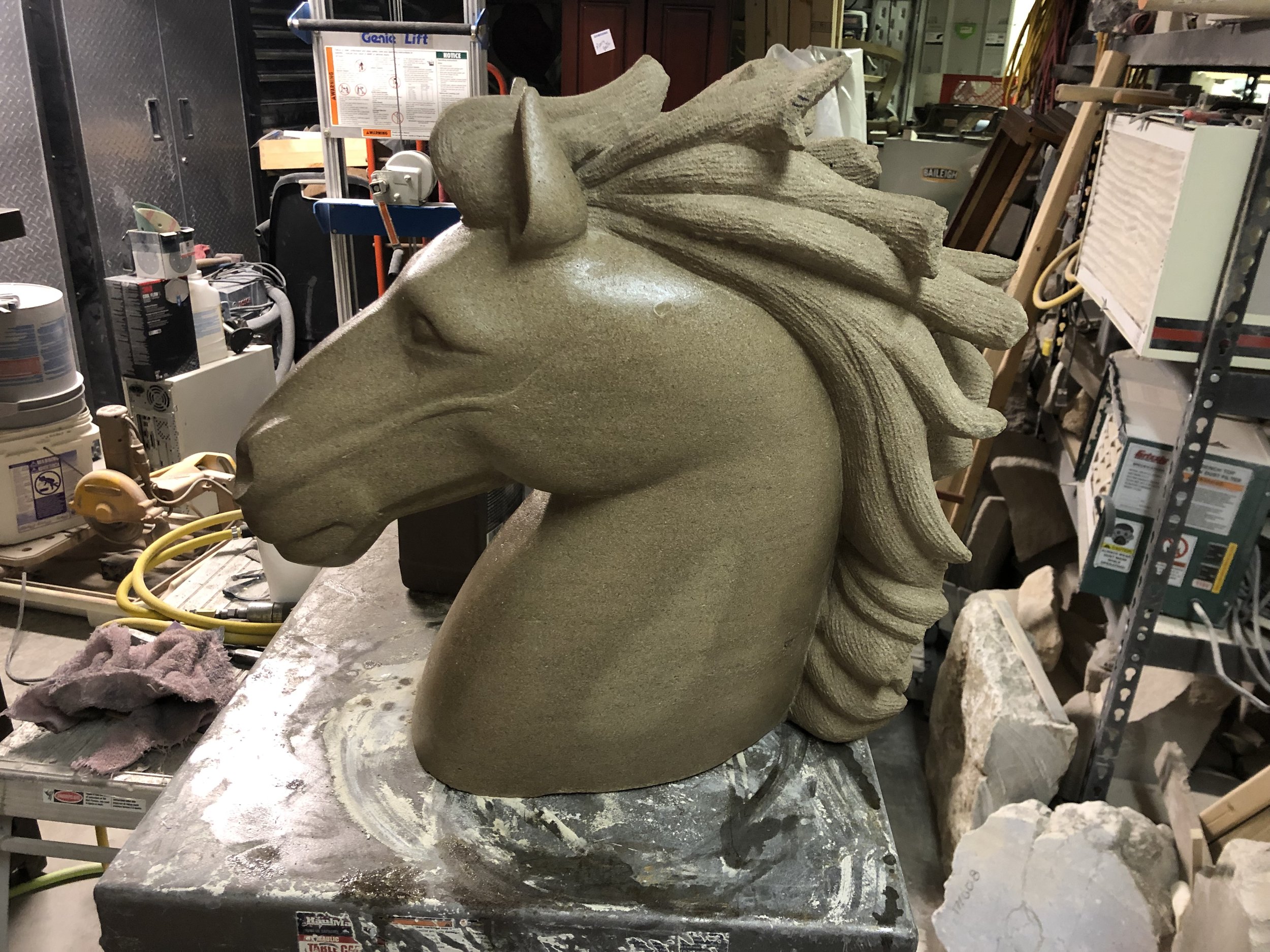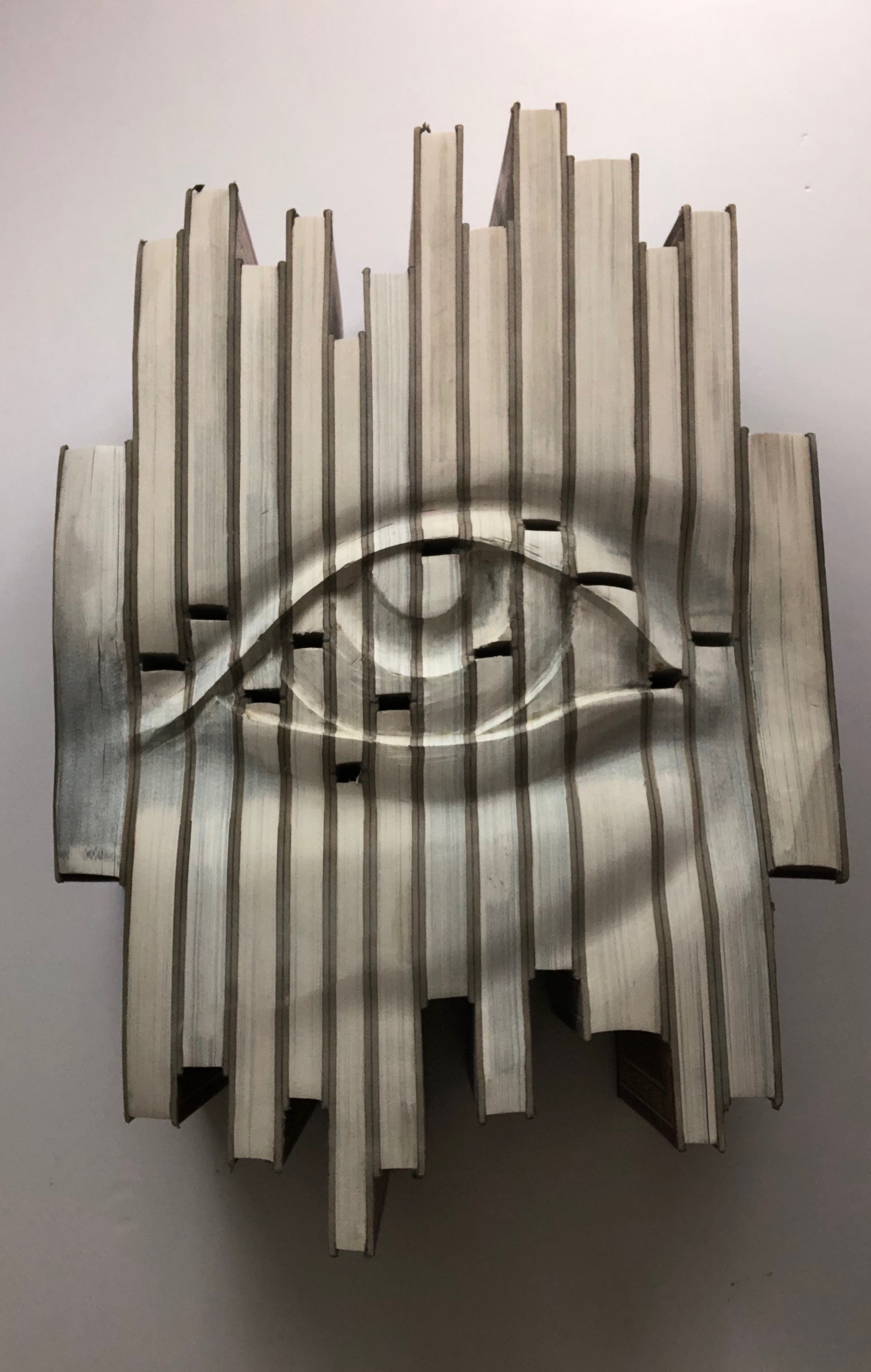 "Minds Eye", a Sculpture Carved From Old Encyclopedias by Mike McCarthy
This sculpture is quite a departure for me. I have only carved stone over the last 10 years. Stone is all i think about. However, I was invited to participate in a show at Revelry Gallery titled "Alt". The premise behind the show is to create art from unexpected materials. They gave me the suggestion of carving books. The carving was pretty easy, but the sanding was really tough. Bottom line though is that i had fun carving this "Alt" sculpture.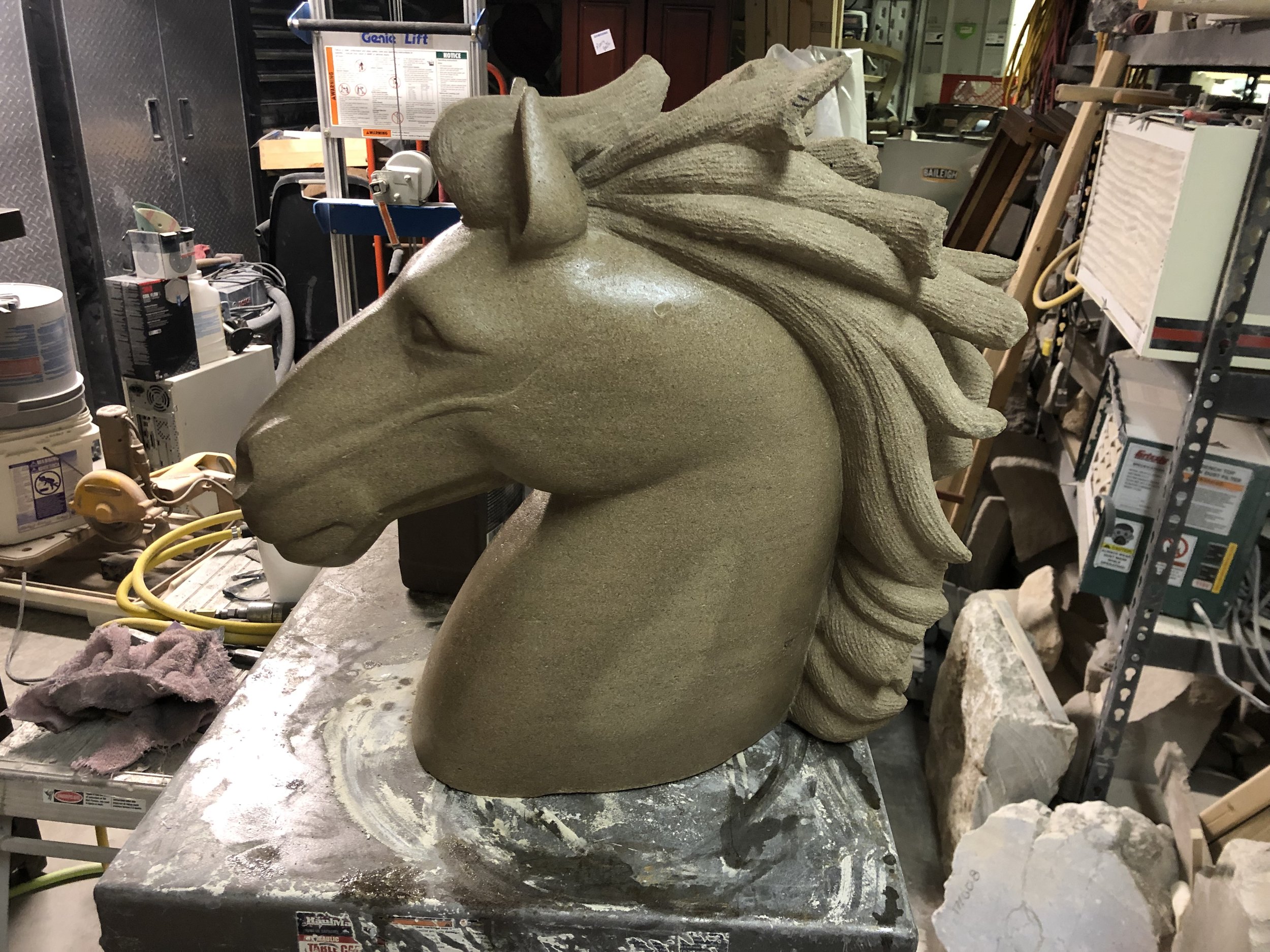 "Into The Wind" - Indiana Limestone Sculpture by Mike McCarthy
This horse bust is carved from Indiana Limestone. I then sanded and finished with Linseed oil and a clear coat. It roughly 120 pounds. This guy could go inside or outdoors.
"From the Beginning to the End" a Indiana Limestone Sculpture by Mike McCarthy
This Indiana Limestone sculpture is from a series I call the "Hotel Series". I carved it while I was out of town for work. It is a nice little contemporarypiece that I left rough on the other side. Thus the title, it moves from the rough and broken stone to the finely polished stone.
Untitled Soapstone Sculpture by Mike McCarthy
This sculpture really reminds me of a penguin or some other type of bird. It is as yet untitled. Typically soapstone is not translucent, that is why I think this piece is so unique.
Untitled Contemporary Dendritic Soapstone Sculpture by Mike McCarthy
This contemporary sculpture is carved from Dendritic Soapstone. This soapstone has petrified ferns in it. Those ferns are what you see in the darker patches. If you zoom in on the photo, you will see the ferns.
The sculpture is reminiscent of the human heart. I like the movement that this piece has. The gentle sweeps and curves provide an elegance that give a very soft feel to stone. That dichotomy always amazes me.
Indiana Limestone Vessel
This stone sculpture is a vessel carved from Indiana Limestone. I really like the contemporary feel of this piece. It is a bit different to have a gloss finish to Limestone. With this piece, I sanded it to 600 grit paper and put Linseed oil and a sealer on it. The oil and sealer gives it the warm color and the sheen. This piece is 12"t x 18"w x 16" d. This piece is suitable for either indoor or out door display. However, outdoor exposure will require regular maintenance to keep the finish refreshed.
Tortoise Shell Alabaster Sculpture
This Tortoise Shell Alabaster sculpture is finally finished. It was a long time in coming. I started it prior to beginning work on my Norton Hospital commission. While that was going on, I douldn't work on this piece. Also, this piece took longer because it really fought back. This alabaster is brittle and has a varied density. That makes it pretty difficult to work. However, it was worth the effort as it is such a beautiful stone.
"Windswept" - Bordigilo Marble Sculpture by Mike McCarthy
This untitled contemporary marble sculpture is a piece that was cut from a large nude I am working on. The marble has a significant bedding plane to it so it was a bit of a challenge to work. However, it held lines very well. I always like carving marble as it is reminiscent of the great masters work. It gives a different sense of being.
"Hawk" - Soapstone, Walnut and Steel Sculpture
This sculpture is Ade fro soapstone, walnut and steel. I really lie the forward ovens of the walnut. I thought it gave the hawk the look of movement. This piece is my first international sculpture. It was purchased and now resides in Mexico.
"Seahorse" Italian Blue Ice Alabaster Sculpture
Even though I am color blind, I can see blue. It is my favorite color. It is logical then that Italian Blue Ice Alabaster is my favorite stone. It has a little transparency to it, not as much as white but it still glows. I also like this piece because of how simple the shape is.
"Dog" - Harvest Gold Alabaster Sculpture
This Harvest Gold Alabaster was a joy to carve. It was not too soft so that it held an edge. It was not too hard to where I was able to fly through the piece. When I posted this piece, it took all of 30 minutes before it was sold. I think the stone had a lot to do with that.
"Peace Lilly"
"Peace Lilly" is carved from Indiana Limestone and can be an indoor or outdoor sculpture. It started its life being titled "Vortex". However, as I moved forward with the piece, that name just did not fit. Once the general shape emerged, it reminded me much more of a flower. As I looked at photos, there was one of a folded over peace lilly that really struck me. Thus the name. It is 29.5 x 19.5 x 12.75.
"Maime"
"Maime" was a commissioned sculpture carved from translucent white alabaster. She is mounted to a lacquered maple base.
"Tall Ship"
"Tall Ship" is carved from translucent White alabaster. I carved this piece very thin to take advantage of the translucent material. The thrust forward reminded me of the racing sail boats you see with their big bellowing sails out front of the boat. This piece is mounted to a lacquered wood base. It is for indoor only.
"Baboon Mask" Contemporary Soapstone Sculpture
"Baboon Mask", 10"w x 9"d x 14"t, is a contemporary sculpture carved from soapstone. This particular variety os a very soft form of the stone. This piece started out as a realistic baboon face. I quickly realized this would not work. The stone was a very odd shape that did not allow for as much depth for the eyes as I originally wanted. I decided to change and go with a completely different direction and make the piece an abstract. I drilled all the way through where I had the eyes. After I did that, I was really happy with the depth it created and decided to go back to the baboon, just as a mask rather than a realistic piece. Carving stone is always a negotiation!
"Hurricane's Eye"
"Hurricane's Eye" is carved from dendritic soapstone. The swirl around the center "eye" of the sculpture that is a natural pattern, reminds me of the images or a hurricane you see from space. It is mounted on a lacquered wood base and is an indoor only sculpture.
"Masquerade" is a Soapstone Sculpture Carved by Mike McCarthy
I originally intended for this sculpture to be mounted vertically. However, once I finished carving the piece and was in the process of polishing, my wife suggested mounting it horizontally. We kept playing with it until she flipped it over and said that it looks like a mask. We decided to put it on the post like the old fashioned masks and "Masquerade was born.
"Eternal" Is A Contemporary Soapstone Sculpture By Mike McCarthy
"Pierced" - Limestone and Steel Sculpture by Mike McCarthy
This Indiana limestone and steel sculpture was inspired by a wood sculpture I did several years ago. That one was more of a sphere. With this piece, I originally intended it to be round not oval. However, as I was carving, it started to really look cooler the more oval it got. the center hole is offset as well which I think provides some more interest. If you look at my "In Progress" page, you will see some photographs of this pieces life cycle. This sculpture is 38"t x 11"w x 9"d.
"Born From the Broken" - Stained Indiana Limestone Sculpture
This sculpture came from a piece of Indiana limestone that was broken off of my latest commission. It was. 7' tall piece that was an abstract figure. I carved the front of the piece while it was laying down. When I stood it up to carve the back, I didn't plan well and it wiped too far forward putting too much pressure on this section. At first, I was devastated. However, the figure turned out better than planned. It also provided this slice of stone that has since become a cool piece in an of itself. It is 36" x 10" x 10".
"Female Nude Torso"
This Indiana Limestone sculpture is my first stone torso. I am pleased with the results. My next attempt is a just less than life size figure in Botticino Marble. It will be a full figure.
"Yin and Yang Go Fishing"
"Yin and Yang Go Fishing" is carved from Portuguese marble and mounted on a Stainless Steel and Lacquered hard wood base.
"Angel Fish" Translucent Orange Alabaster Sculpture
Angel Fish is carved fro Translucent orange alabaster and is hunted to a lacquered wood base. This piece is one of y latest pieces where I am working on thinning out the stone, almost to the breaking point.
"Colorado Hillside Road"
"Colorado Hillside Road" is an 8" x 8" x 14" contemporary alabaster sculpture. It was named by a visitor to a booth I had at an art fair. She said it reminded her of a road going up the side of a mountain. Given that it is also a carved from Colorado alabaster, I thought it was the perfect name.
"Tempest"
"Tempest" is carved from Indiana Limestone with a stain and gloss sealer applied. This piece is mounted to a lacquered wood base. It is for indoor only.
"Running Free"
"Running Free" is a horse head sculpture carved from Black Pearl Soapstone from Virginia on an Indiana Limestone base. This sculpture is 20" x 8" x 13"
"The Chase" - A Wood Sculpture by Mike McCarthy
The Chase" is basswood sculpture is of two fish chasing each other around the found wood base. I don't carve wood often. I really prefer stone. However, these two fish are a rare exception.
"Unmasked" a Contemporary Wood Sculpture by Mike McCarthy
"Unmasked" is a contemporary wood sculpture carved from Cherry wood and driftwood. This sculpture is one of my favorite hands I have carved. I have lost track of this one though. It sold at a gallery that closed down after the sale. I never found out who bought it other than they were not local to Louisville.
"World Pierced By War" a Wood and Steel Sculpture by Mike McCarthy
This is one of my lost sculptures. I am not sure where it is. I donated it to an auction and it did not sell. I went back to pick it up and the place was closed down. Artists are always asked to donate a piece to so many different auctions, it is frustrating when things don't work out.